Thursday, January 7, 2010 , Posted by Zeeda Andrews at 12:12 AM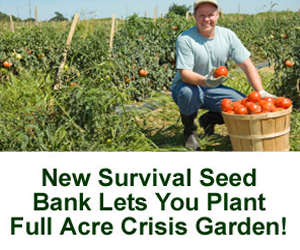 What if it does happen, are you prepared. Its never to late to start. Chance often favors the prepared mind. Life as we know it going to change. It's time to prepare, the clock is ticking and its not going to wait until you can afford it. I know its hard to conceive that we American's can have a food shortage. You must make survival a priority for your family and self and start to consider the possibility's of an underground shelter and enough supply's for 7 years if at all possible.

NOTE: If anyone is interested, 2012 SHELTERED TECHNOLOGIES is a Survival group looking for a few more to join the group that can contribute the the project. The structural Engineer with the group has modified shipping containers for underground shelter that is an awesome and affordable solution. Click Here or here 2012 SHELTERED TECHNOLOGIES you can also purchase MRE's from them. If your interested in the seed bank just click on the picture. May Hashem Bless us all.